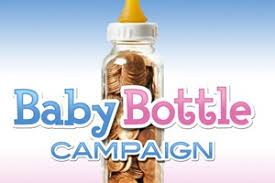 DEFENDING LIFE ON CAPITOL HILL
The Knights of Columbus St. Cyprian Council #10008 is collecting donations for the Capitol Hill Pregnancy Center beginning on May 19th and ending on Father's Day, June 16th.
The fundraiser will support the ministry of the Capitol Hill Pregnancy Center (CHPC) whihc his located just a few blocks away from Holy Comforter-St. Cyprian Catholic Church at 713 Maryland Ave., NE, Washingtn, DC. The phone is 202-546-1018 and website: www.capitolhillpregnancycenter.org.
CHPC provides assistance to mothers in need from the moment they find out they are pregnant through their child's early years. Centers like this one provides real, life-affirming alternatives to abortion ranging from prenatal assistance, parenting classes, to materials like baby bottles and diapers for women going through unplanned pregnancies.
If you want to help out in this vital mission, just pick up one of the empty baby bottles available after Mass in the rear of the Church and return to an usher or the rectory office no later than Father's Day filled with your donation, from loose change to checks (made payable to KOC St. Cyprian Council #10008). If you don't have a baby bottle, we still accept the donations in an envelope or plastic bag.
Please know that your donation will go a long way to defend the value of human life for women all over Washington, DC.
For more information on the Baby Bottle Campaign, contact:

Nate Madden
Grand Knight, St. Cyprian Council #10008
Board Member, Capitol Hill Pregnancy Center
202-830-8286 — ngmaddeniv@gmail.com