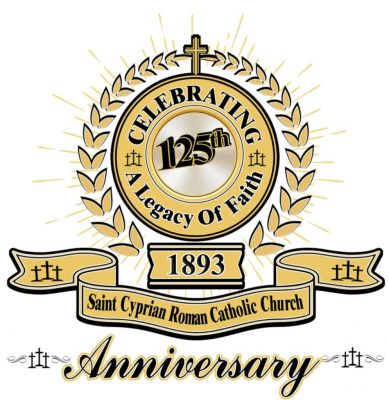 The parish known as Holy Comforter-Saint Cprian Roman Catholic Church can trace its beginnings to two distinct churches–Saint Cyprian which was established in 1893 and Holy Comforter which was established in 1904.  Both parishes were merged in 1966 and continues to exist as one parish community serving the Capitol Hill community for over 125 years.
Saint Cyprian Parish was established in 1893 and this year (2018-2019) marks the 125th anniversary of its founding. There are current parishiones who were members of the Saint Cyprian parish before the merger in 1966 and are in attendance at the current merged parish. Their steadfast and enduring faith is one of the motivational factors behind the continual commemoration of the founding of Saint Cyprian.
Saint Cyprian Parish was formed by a group of African-American Catholics who had been meeting at the hall at Saint Peter's Catholic Church on Capitol Hill and desired to establish and build a church where black Catholics could worship as a community during a time of racial discrimination and segregation. The pioneering members who used to worship in the hall at Saint Peter's Church had the courage and vision to eastablish and build the parish of Saint Cyprian which grew into a thriving and extremely active worship community on Capitol HIll. The Saint Cyprian school traces its origins to a time before the founding of the parish back to 1892. The school became a part of the Saint Cyprian Church community in 1894. More on the detailed history of the parish can be found at https://hcscchurch.org/about-2/history-of-parish/.
Throughout the next 12 months, Holy Comforter-Saint Cyprian parish will commemorate the 125th Anniversary of the establishment of Saint Cyprian Catholic Church with a variety of activites, seminars and events. Please stay tuned for a calendar of events and activities.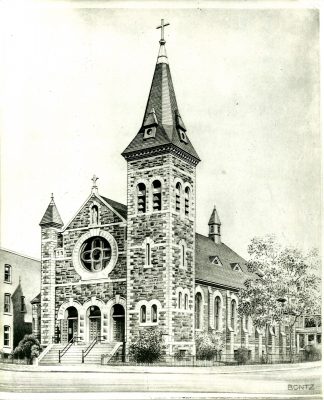 MAJOR EVENTS COMMEMORATING THE 125h ANNIVERSARY
of the FOUNDING OF SAINT CYPRIAN CHURCH
HCSC Feast of Saint Cyprian Mass

– Sun., Sept. 15, 2019 – ONE Mass at 10:00am in the church. Celebrant: Bishop John Ricard, Superior General of the Josephites Community.

1

25th ANNIVERSARY LUNCHEON & GALA –

Sun., Sept. 15, 2019

– 1:00-5:00pm at the Camelot by Martin's in Upper Marlboro, MD. Tickets: $40 per person (buffet meal). Presentations by former St. Cyprian Church parishioners and students along with the Oblate Sisters of Providence. Purchase your tickets at the rectory office (202-546-1885) or online at https://www.eventbrite.com/e/125th-anniversary-of-st-cyprian-parish-luncheon-tickets-68729189857
Annual May Procession – Sun., May 5, 2019 – 10:00am – Join us as we gather at Holy Comforter-St. Cyprian in celebration of the Annual May Queen Crowning and process through the neighborhood.
African American History Month Presentation & Luncheon – February 10, 2019 – 12:30noon – featuring Dr. John T. McGreevy, author of Parish Boundaries which chronicles the history of Catholic parishes in major cities and meld their unique place in the urban landscape to the course of twentieth century American race relations. For more information, visit https://hcscchurch.org/2019/01/aahm-lunch-speaker-2019/.

HCSC

Feast of Saint

Cyprian Mass –

Sun., Sept. 15th, 2018 – ON

E Mass at 10:00

am

 – 

followed by a lite reception out on the plaza in front of the Church. Join us for Mass celebrating the Feast Day of Saint Cyprian of Carthage along with a special recognition of the 25th Anniversary of the Ordination to the Diaconate for our very own Deacon Ralph Cyrus. For more information on the life of St. Cyprian of Carthage, visit  https://hcscchurch.org/about-2/history-of-parish/
OTHER RESOURCES AND HISTORICAL RESOURCES ON SAINT CYPRIAN PARISH