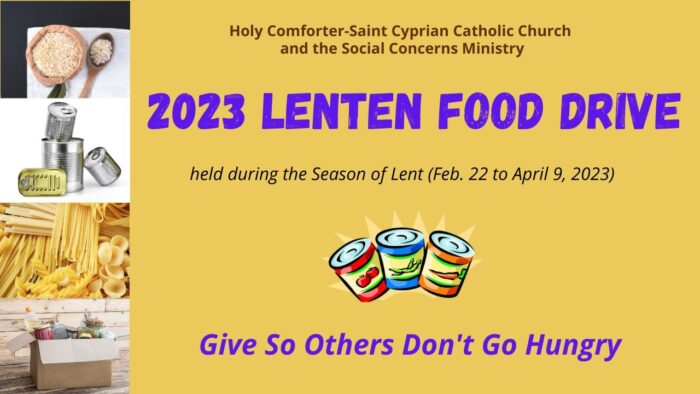 Join with our parish this Lenten season to restock our churches food pantry in a
CANNED FOOD DRIVE from February 22 – April 9.
You can drop off the food at the church during Mass times or the rectory office during office hours. Or, you can order food from a local store or online (Amazon, Target, Walmart, etc.) for delivery to:

Holy Comforter-St. Cyprian Church
1357 E. Capitol Street, SE
Washington, DC 20003
ATTN: Kim Peaks
202-546-1885

NOTE: Please have local grocery store orders delivered when the office is open: Monday, Tuesday, Wednesday and Friday from 11am-5pm.

PLEASE DONATE THE FOLLOWING ITEMS:
Canned proteins (tuna, salmon, chicken, sardines)
Canned vegetables (green beans, corn, mixed)
Breakfast cereal
Oatmeal and grits
Pancake mix and syrup
Canned chunky soups and stews
Canned pasta (Spaghettios and Ravioli)
Canned fruit
Spaghetti sauce (canned or plastic bottle)
Spaghetti
Canned diced tomatoes
Monetary donations are also accepted. You can drop your donation (cash or check payable to HCSC) in the collection basket or electronically through Faith Direct (donate to Lenten Food Drive). NOTE: Please note that your donation is for the Food Drive on your check or envelope with cash. You can also mail your check to the address above or drop off at the rectory.
Questions? contact the rectory office at 202-546-1885 or hcscstaff@hcscchurch.org. Thank you for your generosity!!