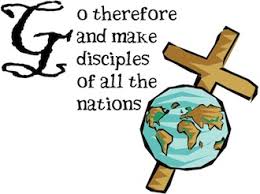 Evangelization is the process of opening our hearts to God's word, putting that message into practice in our daily lives, sharing the story of how God has touched us, and welcoming others to experience the good news. Our Parish has deep historical roots in this Capitol Hill Neighborhood that extend back to 1893. Through these many years we have continued to lift up the name of the Lord in prayer and praise and to announce the Good News of our Salvation in Jesus Christ. We also strive to be a part of the wider community who, although they may not share our Catholic Faith, remain to us neighbors whom we are called to know and love. Our parish has many efforts dedicated to carrying out our priority to evangelize and promote community outreach:
We open the doors of our Church during the 11:00am Mass on Sundays to welcome any person who is interested in learning more about Christ and our parish community.
We have neighborhood evangelization walks throughout the community spreading the Good News and inviting our neighbors to come and experience the Eucharist.
We have socials events such as musical concerts, movie nights, barbecue, Blessing of the Animals and many other social and spiritual activities that are open to all who are interested.
We hosts bible studies for young adults and other parishioners along with seasonal bible studies for those who can't attend weekly (such as Lenten Soup & Scripture)
The Evangelization Welcome Team supports the parish and the Pastor by providing assistance in coordinating these efforts and performing services as a "Welcoming" committee to new and interested members (reaching out to visitors with a phone call or inviting a new member to a luncheon to meet other parishioners). If you want to bring others to Christ and you want to share the good news, please contact the rectory office at 202-546-1885 or hcscstaff@hcscchurch.org and let us know you are interested in this ministry.