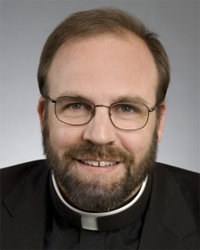 Rev. Msgr. Charles Pope
Due to the Coronavirus (COVID-19) pandemic, we are unable to celebrate a PUBLIC Mass or hold other events (meetings, rehearsals, etc.) at the parish until further notice. But, Msgr. Charles Pope and staff would like to continue to communicate to everyone on what is happening with the parish and the Archdiocese and to supply you with links to videos of the recorded Mass, scripture readings, the Pastor homilies and other liturgical resources and prayers. Please visit this site daily for updates…..especially for communications from Msgr. Charles Pope. We pray that we are able to endure this pandemic and come out stronger as Christians for it.

Our rectory office is operating on a limited schedule and with reduced staff. For detailed information on rectory office hours, liturgical information and other administrative concerns during this pandemic, visit our COVID-19 information page: https://hcscchurch.org/coronavirus-covid-19-update/

Thank you and May God bless and keep you safe during these difficult and challenging times in our world. Please use this time 'in the desert' to grow stronger in your faith and closer to Our Lord.
RESOURCES FOR SPIRITUAL ENRICHMENT DURING THE PANDEMIC
VIDEO COMMUNICATIONS FROM THE PASTOR
THIRD SUNDAY OF LENT – Scripture Readings for Sunday, March 15, 2020 – http://usccb.org/bible/readings/031520.cfm