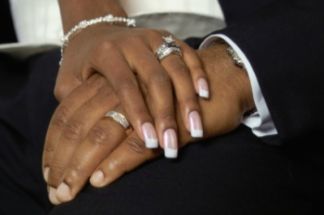 Holy Matrimony was established and instituted by God when, after the creation of Adam, He formed one wife for him, Eve, as a companion and helper and blessed their union, saying to them: Be fruitful and multiply, fill the earth and subdue it. (Genesis 1:28) As such, God manifests his will that spouses should be different in sex, one man and one woman, and thus apt to generate offspring and propagate the Human Race.
Moreover, since the raising of children takes many years, God also willed that husband and wife should be in a faithful and stable union. And so he decreed that A man shall leave his father and mother and cling to his wife and they become one flesh. (Genesis 2:24). Jesus adds later, What God has joined together must never be divided. (Matt 19:6). This stable and lasting union is what is best and just for children and is also a means of holiness for the married couple.
For a fuller Catechesis on Marriage click here:  The Sacrament of Holy Matrimony
Requirements: In order to be married in the Catholic Church a man and a woman who present themselves for Holy Matrimony must meet the following requirments
Must be at least 18
Never Married before, or if previously married, their spouse is now deceased.
Not related to each other by blood (first cousin or closer).
Both are capable of the marital sexual act.
Both intend to enter a permanent, indissoluble marriage, and to be faithful to each other for life.
Both intend to enter a marriage that is open to the procreation and raising of children.
One of the two is a Catholic.
Note: Please contact the Pastor if you have any questions about these requirements. These requirements are stated generally, and some of them may require further discussion, given your personal context. Also, help can be made available to help you meet requirements, (e.g. annulments, etc).
If you want to have a wedding at Holy Comforter – St. Cyprian:
Please notify us at least six months prior to your preferred date.
The Pastor will meet with you very soon after to begin necessary paperwork
In order to reserve a date, the couple is asked to review the wedding policies of the parish, fill out a contract and, if possible, make a $100 refundable deposit.
It is preferred that one of the couple be a member of this parish, however exceptions are made. If the Catholic party is not a member here, a letter is requested from the Catholic party's pastor indicating that he is aware of the marriage.
Some form of instruction in the Sacrament of Holy Matrimony must be completed. There are several ways this can be done and they will be explained and offered at your first meeting with the pastor.
Other requirements (such as the need for baptismal certificate(s), a wedding license, etc) will be explained to you on your first visit with the pastor.
There is currently a requested donation of $500 for Weddings, which can be waived in the case of hardship.
Appropriate music must be carefully selected in cooperation with our Director of Music. As a general rule, outside musicians and performers are not permitted.
To Get things started: Please Contact our Pastor, Msgr. Charles Pope at 202-546-1885 or pastor1@hcscchurch.org
Some additional resources and teachings on Marriage:
This video shows some couples who have made a few years together, which is our prayer for you!