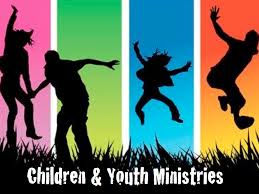 The Holy Comforter-Saint Cyprian Church Youth Ministry serves the youth of our parish by ministering to them via many venues so that they will grow into a daily life experience with Jesus Christ. We hosts many activities including Youth Retreats and workshops, Christmas and Easter productions, community service opportunities, liturgical service opportunities, social & spiritual fellowships along with many other uplifting and faith building activities for our youth from Pre-K thru 12th grade. Following are the youth ministries that are offered at our parish:
Youth Lectors – proclaiming God's Word on Sunday at the Mass and other liturgies. Youth will read the scripture during Mass on Youth Sunday and other special liturgies as needed.
Youth Ensemble – singing praises to God on Youth Sundays (second Sunday of each month).
Altar Servers – serving the Lord at liturgies by providing assistance to the celebrant and deacons during ALL masses.

Liturgical Dance Ministry

– dancing with Joyous praise to the Lord on Youth Sunday and other liturgies.
Youth Ushers – serving the people of God on Sunday during Mass as Ministers of Hospitality.
Community Service – S.O.M.E. (So Other Might Eat) serving our Brothers and Sisters who are in need of a daily meal by helping to prepare and serve meals to those who come in for food.
Quarterly Youth Ministry Newsletter – spreading the Good News to all about the youth of our parish and the Word of God. Our youth are encouraged to submit articles and assist with production.
Student Catechists – assist adult catechists with our Liturgy of the Word for Children which is held in conjunction with Mass (during the homily).
We have much to offer our youth at our parish so that they may learn and be nurtured by the Holy Spirit while learning to walk as children of the light.
If you are interested in our youth ministry, please contact our Director of Youth Ministry, Mrs. Nicki Gebrehiwot at youthdirector@hcscchurch.org or 202-546-1885.