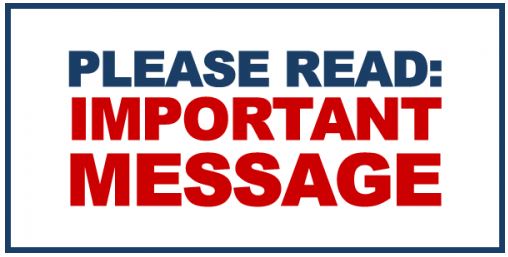 ---
ORIGINAL LETTER REGARDING COVID-19 INFECTION NOTIFICATION:
July 28, 2020
Dear Friends in Christ,
On Monday July 27, 2020, Msgr. Charles Pope self-reported that he has tested positive for COVID-19 virus. He is recuperating and getting better each day. For the next two weeks, he and the other priests and seminarian that live in the rectory will be self-isolating as a precaution. We will be sure to keep you updated.
It is important for everyone to continually monitor their health. Symptoms of COVID-19 include coughing, fever, and shortness of breath. Call your healthcare provider if you develop symptoms. Generally, danger is minimal unless you had close contact with Msgr. Pope for 15 minutes or more and masks were not worn. It is important to follow all guidelines provided at this time including wearing masks and practicing social distancing. For more information about symptoms and testing, please use this link: https://www.cdc.gov/coronavirus/2019-ncov/symptoms-testing/index.html. In addition, the District of Columbia shares important information at the following link: https://coronavirus.dc.gov/ or by telephone at 1-844-796-277.
As a precaution, the Church is being professionally deep cleaned and sanitized this week. We will continue to follow the recommended norms of social distancing, wearing of masks, making hand sanitizer available for all, using alcohol to clean the clergy hands when distributing the Eucharist and sanitizing the pews after each Mass.
Stay tuned for another communication over the next day or two about our plans for Mass.
The rectory office is currently closed until further notice.
Please keep Msgr. Pope in your prayers and know that he is doing the same.
Please check this website daily for updates and stay in touch via social media (MyParishApp, Facebook, Instagram, Twitter & YouTube). Our parish app (MyParishApp) is an easy way to send you quick notifications so please download it to your mobile device and allow notifications. Also, visit our other pandemic information website page at https://hcscchurch.org/parish-communications/ .

Lastly, visit the Archdiocese of Washington website https://adw.org/coronavirus/ for links to a variety of Daily Mass sites, scripture readings and other very important liturgical and Catholic resources.
(Updated 7/29/2020)
HCSC RECTORY OFFICE

Until further notice, please note that our rectory office will be closed. You may be able to reach someone in the meantime via email: hcscstafff@hcscchurch.org

Deaths/Funerals: Until further notice, we are unable to host funerals temporarily.
SACRAMENT OF RECONCILIATION: Until further notice, confessions will not be hear.
TITHING

This is a very difficult time for everyone both spiritually and financially. If you are able to send your tithes, please know that you can submit it electronically and securely through Faith Direct. Visit faith.direct/DC59 or call 1-866-507-8757 to begin eGiving or to make a one-time donation.

If you are unable to use electronic tithing, mail them to
1357 E. Capitol St., SE, WDC, 20003.
Thank you for your support and generosity.
ANNOUNCEMENTS FROM THE ARCHDIOCESE OF WASHINGTON

For updated announcements/instructions/prayers/Mass readings. etc. from the Archdiocese of Washington, click here: https://adw.org/coronavirus/