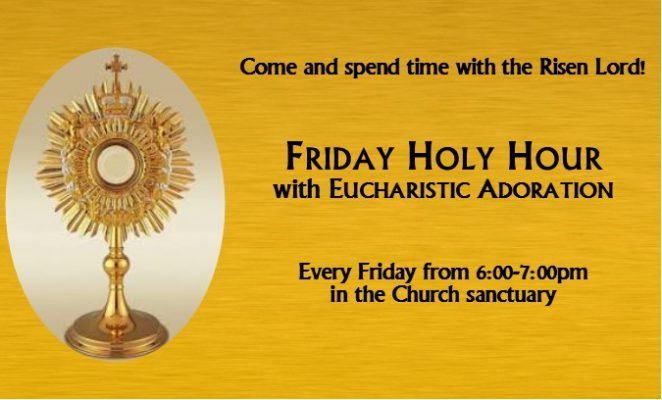 Every Friday, our parish holds a Holy Hour of Eucharistic Adoration in the Church. 
NOTE:  During the Coronavirus Covid-19 pandemic, we will continue to hold a Holy Hour for 100 or less people in the church sanctuary. You are required to wear a mask or face covering. Please practice safe social distancing when seated in the sanctuary. Please DO NOT come to Holy Hour if you feel sick or at high risk. Hand sanitizer is available in the rear of the church.
This is a devotional tradition of spending an hour in Eucharistic adoration in the presence of the Blessed Sacrament. Adoration is a sign of devotion to and worship of Jesus Christ, who we believe to be present Body, Blood, Soul, and Divinity, under the appearance of the consecrated host. As a devotion, Eucharistic adoration and meditation are more than merely looking at the Blessed Host, but are believed to be a continuation of what was celebrated in the Eucharist.
The inspiration for the Holy Hour is Matthew 26:40. In the Gospel of Matthew, during the agony in the Garden of Gethsemane the night before his crucifixion, Jesus spoke to his disciples, saying "My soul is sorrowful even to death. Remain here and keep watch with me." (Matthew 26:38) Returning to the disciples after prayer, he found them asleep and in Matthew 26:40 he asked Peter:
"So, could you men not keep watch with me for an hour?".
All are welcome to come and spend time with the Lord in prayer. Bring your bible or other devotional prayers if you like.
Resources: 12 Reasons to spend a holy hour in the presence of the Blessed Sacrament (Catholic News Agency)